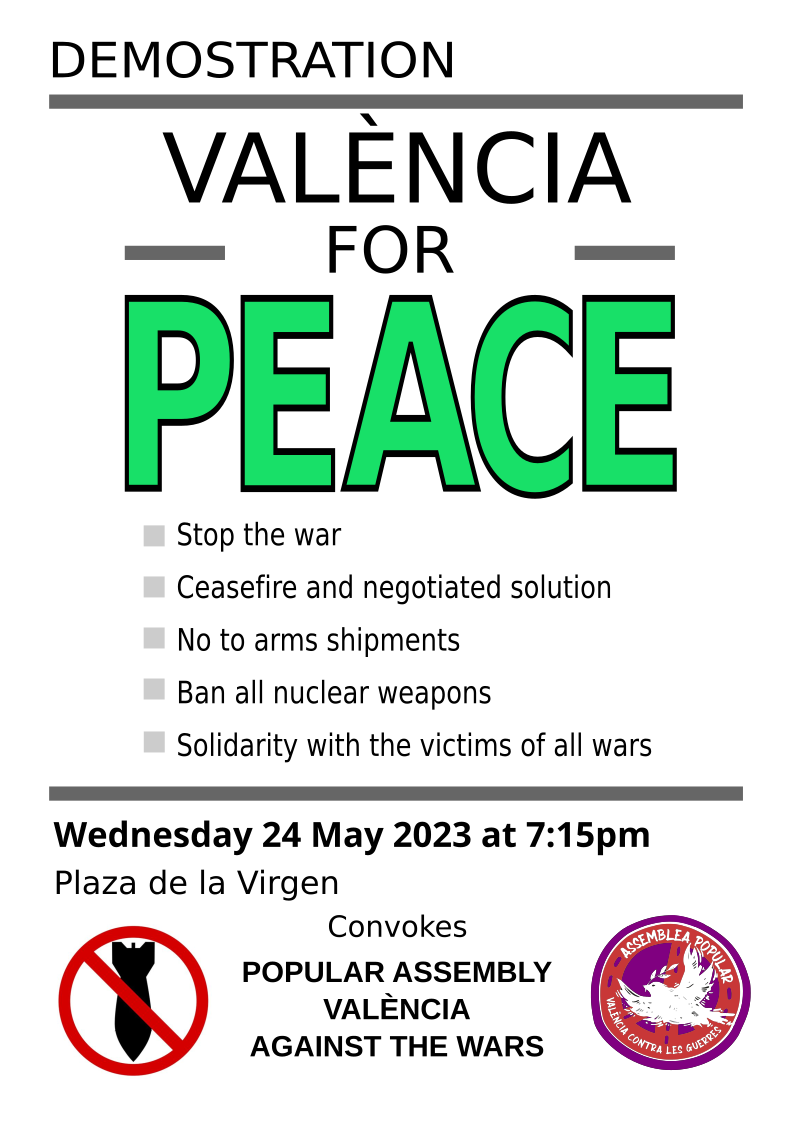 More than a year after the criminal invasion of Ukraine brought the horror of war to our continent, with its aftermath of death, destruction and suffering, we are witnessing an escalation of the conflict with a real risk of nuclear hecatomb.
Although the main responsibility for unleashing the war lies with the Russian government for invading a sovereign country, the conflict had been brewing since 2014, fuelled by Russia's imperial nationalism and the aggressive expansionism of a NATO at the service of US interests.
Meanwhile, the Spanish government, along with the rest of the European governments, has subordinated itself to the global strategy of confrontation of the USA, which feeds the militaristic spiral of war to weaken Russia's military and economic power and deepens the geostrategic conflict with China, with unforeseeable consequences for the whole of humanity.
Europe is thus becoming a key player in the escalation of war, with the growing shipment of more offensive weapons, which serves as a pretext for multiplying military spending, while blocking essential initiatives to tackle the climate emergency and the crisis of inequality.
Large parts of the working population suffer the consequences of war-driven inflation, while the military complex, banks, billionaires and certain large corporations make extraordinary profits. On the other hand, the Global South suffers from food crises, plundering of raw materials, armed conflicts and criminal border management, turning both the Mediterranean and the fences of Ceuta and Melilla into infamous cemeteries.
For all these reasons, it is urgent to organise a grassroots response against war, imperialist aggressions and the increasing militarisation of societies.
Behind the cry "no to war" there is no naive position, since the only real path to peace is the de-escalation of war, demilitarisation agreements and the reduction of the nuclear arsenal.
We call on citizens' organisations, trade unions, political parties, social movements and the general public to organise and form a powerful internationalist movement for peace, capable of stopping the spiral of war, welcoming those who desert the wars and building a new international order based on solidarity, cooperation between peoples and shared security.
After the 25F demonstration called by the "València for Peace Appeal", we call you to gather in the Plaza de la Virgen, in Valencia, at 19:15, every 24th of the month, from the 24th of April onwards.
SOLIDARITY WITH THE VICTIMS OF UKRAINE AND ALL WARS!
IMMEDIATE CEASEFIRE AND NEGOTIATED SOLUTION NOW!
NO SHIPMENT OF WEAPONS AND
BAN ON NUCLEAR WEAPONS!
This email address is being protected from spambots. You need JavaScript enabled to view it.